Sustainable Development Goals
"Disability Live from Tokyo" Online Symposium held by the Keio Graduate School of Media Design and University College London's Global Disability Innovation Hub
September 21, 2021
Keio University
On the eve of the Tokyo Paralympics 2020, August 23, 2021. The Keio University Graduate School of Media Design (KMD) and University College London's (UCL) Global Disability Innovation Hub (GDI Hub) co-hosted an online symposium entitled, "Disability Live from Tokyo: From 1964 to 2020: A Journey of Disability Innovation." The GDI Hub is currently promoting the #WeThe15 campaign to eliminate societal barriers for the 15% of the world's population who live with disabilities. The event served to commemorate the launch of the KMD and GDI Hub collaborative research project aimed at creating more inclusive societies, "Artistic Technologies" (AT), and as a platform to introduce relevant research projects developing under AT.
Vicki Austin, GDI Hub's co-founder and CEO, moderated the symposium, which included an appearance from Caz Walton OBE, board member of the British Paralympic Association (BPA) and 10-time gold-winning Paralympian, two of which she secured at the 1964 Tokyo Paralympics. Walton OBE, in preparation for Tokyo 2020, visited Japan in 2018 in order to observe the accessibility of the facilities and venues for the Olympics as a wheelchair user. (During her stay, she also toured Keio University's Hiyoshi Campus because it was set to be the pre-Games training camp location for the UK teams.) She was thrilled at the improvements she found in public transportation since her experience in 1964's Paralympics when it was difficult to navigate the city, and especially noted the "dare demo toire" (toilets for everyone) project that has been installed at stations throughout Tokyo. She also discussed how, as a result of sports-driven improvements to the performance of wheelchairs and prosthetic limbs used in various Paralympic events, the functionality of equipment used by non-athletes has also improved, increasing the independence of persons with disabilities.
From KMD, Dean Masa Inakage, Professor Kouta Minamizawa, and Professor Kai Kunze  presented a variety of tech projects including the "MusiArm," a prosthetic that can be expanded into a musical instrument similar to an electric guitar that enables its user to play music; "Superhuman Sports," which use devices similar to mobile suits from anime to augment physical functions so that anyone can enjoy sports regardless of differences in physical strengths of abilities; and "Smart Glasses," an advanced form of eyewear that can be used to detect human emotions.
Afterwards, Professor Catherine Holloway and Dr. Giulia Barbareschi presented for the Global Disability Innovation Hub. Their research projects included a tactile display that would allow visually impaired persons to both read information and project their own ideas using diagrams and pictures through an augmented display. They went on to introduce AT technologies that would empower disabled persons to express themselves fluently through music, sculptures, and other creative media.
You can watch the recording from the link below.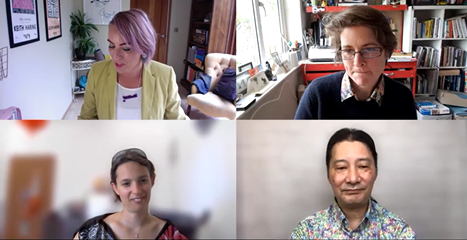 Top left Victoria Austin, co-founder, CEO, GDI Hub
Top right Prof. Catherine Holloway, UCL, & GDI Hub
Bottom right Prof. Masa Inakage, Dean, KMD
Bottom left Dr. Giulia Barbareschi, UCL & GDI Hub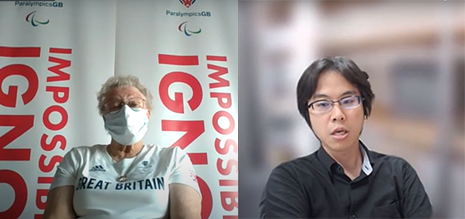 Left Caz Watson OBE, British Paralympic Association
Right Prof. Kouta Minamizawa, KMD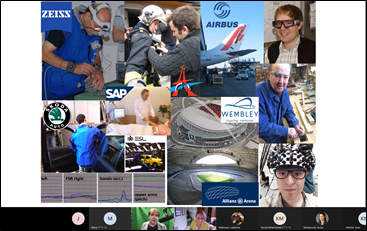 Prof. Kai Kunze (KMD) giving a presentation