Sustainable Development Goals
Creativity
Keio University Vice-President Jiro Kokuryo takes part in the ASEF Higher Education Innovation Laboratory
April 20, 2021
Keio University
ASEF (Asia-Europe Foundation), APRU (Association of Pacific Rim Universities), and Fudan University are the co-sponsors of an eight-week (March 25–May 13) online project, the "1st Higher Education Innovation Laboratory (ASEFinnoLab)," which is currently ongoing. ASEF (Asia-Europe Meeting) is a foundation established by ASEM in 1997 that is engaged in activities to promote enhanced mutual understanding between Asia and Europe. ASEFInnoLab is a project to deliver opportunities for mutual learning to heighten capacities to address shared and pressing challenges in management tiers of Asian and European institutions of higher education.
The overall theme for the noteworthy first session is "Universities' Role in Data Science and Artificial Intelligence (AI) Innovation Ecosystems," in which 28 participants from 51 ASEM countries  are involved. They are in the process of deepening discussion on digitalization, innovation, and reform of institutes of higher education.
On April 8, Keio University Vice-President Jiro Kokuryo gave a presentation titled "An Asian Perspective on the Governance of Data Economy," as well as engaging in a lively exchange of opinions with participants. Mr. Kokuryo also served as the academic lead for the "AI for Social Good" project at APRU.*
The 2nd ASEFinnoLab is scheduled to take place in the latter half of 2021.
Event website
https://asef.org/news/the-first-asefinnolab-kicks-off-meet-the-participants/
*Keio University, together with the Association of Pacific Rim University (APRU), co-published a new open-access publication "AI for Social Good", in partnership with United Nations ESCAP (UN ESCAP) and Google in September 2020.
https://www.ccrc.keio.ac.jp/ai-for-social-good/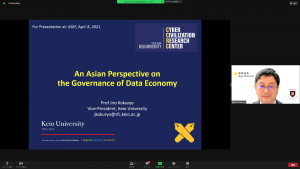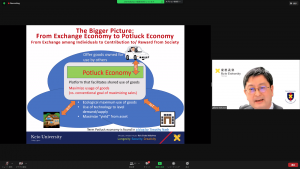 Vice-President Jiro Kokuryo during his presentation