Sustainable Development Goals
Creativity
Keio University Hosts Online Symposium: "International Collaboration in Higher Education during the COVID-19 Pandemic"
October 08, 2020
Keio University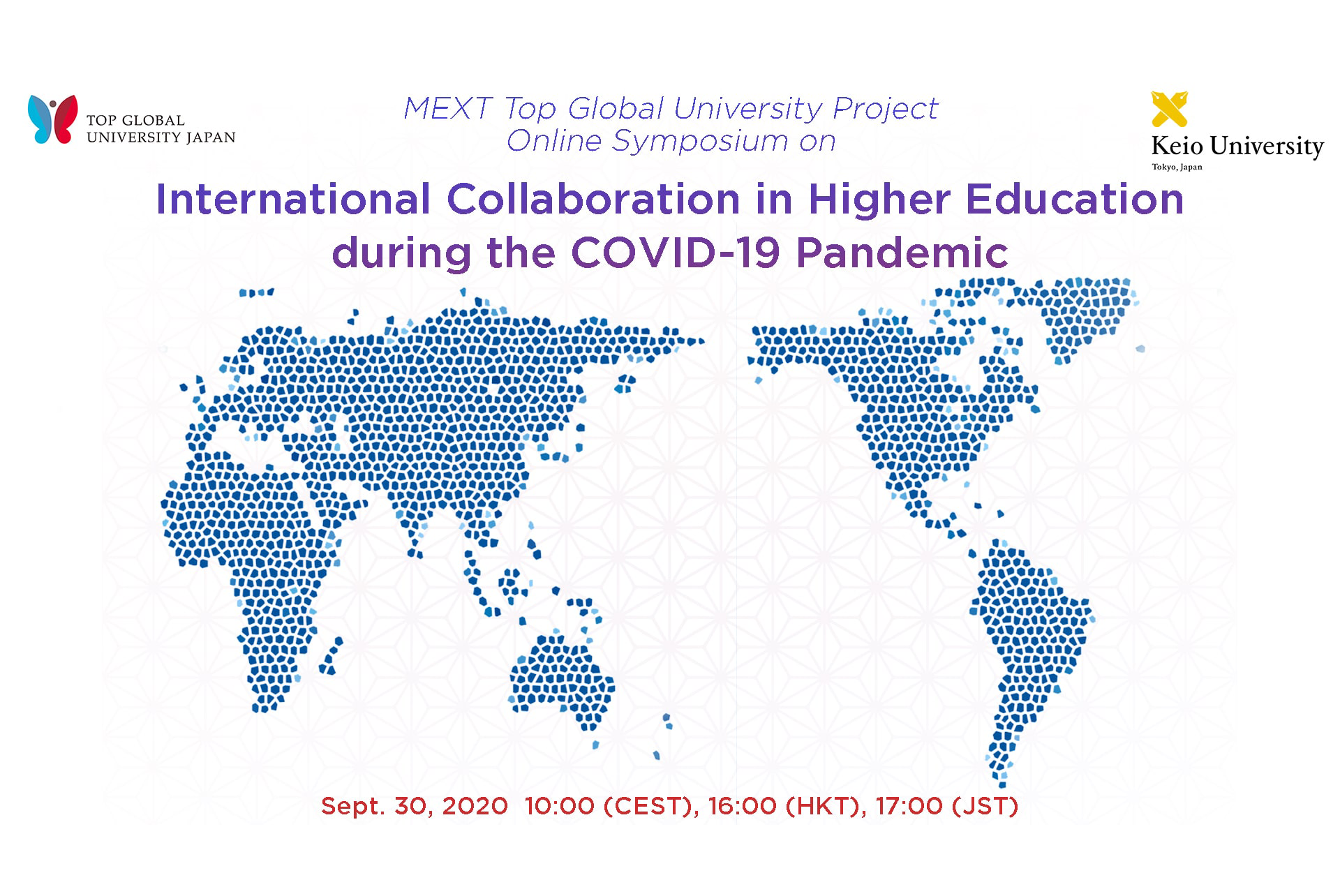 Keio Vice-President Shinnosuke Obi moderated the first "MEXT Top Global University Project Online Symposium: International Collaboration in Higher Education during the COVID-19 Pandemic" that was held on September 30, 2020. Approximately 430 people including faculties and university staff from Japan and around the world participated in the online symposium, indicating the high level of interest in the topic.
Speakers for the symposium were Professor Vanessa Scherrer, Vice President of International Affairs at Sciences Po, Paris, Professor Suk-Ying Wong, Associate Vice-President at the Chinese University of Hong Kong, and Professor Masa Inakage, Dean of the Keio University Graduate School of Media Design (KMD), who each lectured on the initiatives at their respective schools and universities. The guest speakers were then joined by Mr. Kuniaki Sato, Chief Director for University Reform and Director of the Office for International Planning at the Ministry of Education, Culture, Sports, Science and Technology (MEXT), for a discussion based on questions from the audience. Topics ranged from hybrid programs combining virtual and physical interaction, the present situation regarding "Virtual Student Exchange (VSE)" programs, and prospects for the future.
One thing that Professor Scherrer emphasized in her lecture was the important role that is to be played by global universities which are not merely reacting to the "new normal" brought about by the COVID-19 pandemic but are working to actively shape it. While online programs are no substitute for the actual experience of living in a different culture and studying at an overseas university, the various initiatives of the three universities show that the crisis of the COVID-19 pandemic is equally an opportunity. Through online study abroad programs, joint research conducted from separate locations, and the development of technologies and methodologies, universities are in a position to create new values and realize possibilities that no one could previously have imagined.
◆Program:
1. Opening address
Professor Shinnosuke Obi, Vice-President for International Collaboration, Keio University
Mr. Kuniaki Sato, Chief Director for University Reform Director, Office for International Planning, MEXT
2. Presentation by guest speakers
"BEING A GLOBAL UNIVERSITY IN A POST-MOBILITY WORLD"
by Professor Vanessa Scherrer, Vice President for International Affairs, Sciences Po, Paris
"OVERCOMING CHALLENGES IN THE COVID-19 WORLD FOR INTERNATIONAL EXCHANGES: APRU VIRTUAL STUDENT EXCHANGE"
by Professor Suk-Ying Wong, Associate Vice-President, The Chinese University of Hong Kong
"INNOVATING GLOBAL LEARNING TO THE NEW NORMAL"
by Professor Masa Inakage, Dean of the Keio University Graduate School of Media Design
3. Open discussion (audience participation encouraged)
4. Closing
Keio University Vice-President Shinnosuke Obi