Keio University's Initiatives to Achieve Carbon Neutrality
as of March 2023
Carbon Neutral policies at Shonan Fujisawa Campus
Shonan Fujisawa Campus (SFC) functions as a model for Keio University as a whole in its carbon neutral policies and is paving the way forward with its roadmap for converting over to renewable energy. SFC will convert to 100% renewable energy sources by the target year of 2030. This action plan involves energy conservation through replacing older lighting fixtures with LEDs, enforcing energy-saving practices, and improving energy efficiency within buildings on campus. The campus will also introduce solar power as its main source of renewable energy. An assessment of the potential for on-site solar power generation on campus revealed that approximately 30% of the campus could be self-sufficient by installing solar panels on building rooftops and carport roofs. To increase this percentage, SFC is planning on conducting a survey on the potential of using local biomass as an energy resource. The campus also plans to incorporate other environmental considerations into its carbon neutral policies such as biodiversity projects and recycling.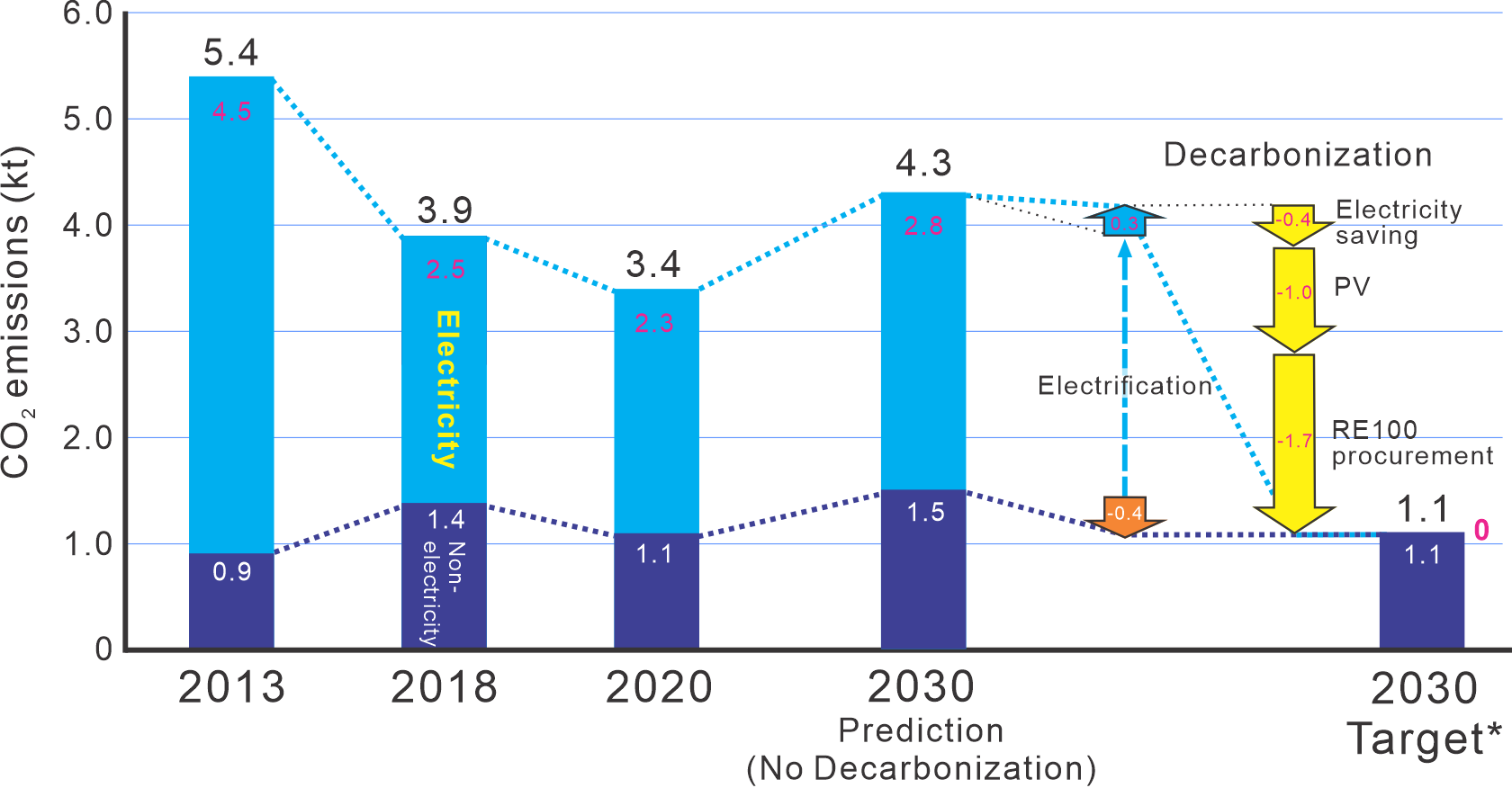 SFC's Carbon Neutral Roadmap
*The decarbonization policies listed are those planned as of March 2023 and are subject to change based on future analyses.
Carbon neutrality across Keio University as a whole
Keio University in its entirety is also aiming to convert energy consumption to natural sources by 2030. Keio has a total of 6 campuses, each differing greatly in their energy consumption rates, usage patterns, and potential for on-site solar panels. As such, Keio plans to use the carbon neutral policies at SFC as a testing ground for other initiatives that take advantage of each campus's unique situations to make concrete progress towards carbon neutrality.
Using current technology, however, is it impossible for Keio University to meet its energy needs through on-site renewable resources. Similarly, for Japan to reach its stated goal of carbon neutrality by the year 2050, the country will need to revolutionize its renewable energy technological infrastructure. As such, Keio University will facilitate cutting-edge research in these areas and reflect findings from this work into its carbon neutral programs. The university's efforts will not end there. In addition to technological innovations, Keio also will encourage and equip students to get involved in confronting environmental issues that correspond with carbon neutrality so that they are prepared to go on to create a sustainable society.
Collaboration agreement with Tokyo Electric Power Company
Keio University has entered a collaboration agreement with the Tokyo Electric Power Company (TEPCO) to accelerate the process of going carbon neutral at each of its campuses, thereby helping achieve a carbon-neutral society. By having students involved in the process and using Keio campuses as testing grounds, the university aims to increase new practical applications of renewable energy and implement technologies that help regulate supply and demand. The collaboration agreement also aims to promote training and education for future experts in a wide range of subjects with significant implications for carbon neutrality including environmental affairs, biodiversity conservation, and human well-being. Furthermore, Keio University's forests and TEPCO's land within the Oze National Park will be used so that students can gain experience in measuring CO2 absorption and biodiversity conservation efforts.